Somatic Bodywork Services in Nelson, BC
Living with mind and body relaxed is our natural state, our birthright. It is the fast pace of our lives that has made us forget.
Sacred Earth Somatics is the practice of Tyson Bartel, who offers Thai Massage, Feldenkrais, and Yoga Therapy from his studio in Nelson, BC.
The studio is also home to Courtney Wren-Mabbutt, a therapist who offers an embodied, relational approach to healing. Together, Sacred Earth Somatics offers our clients comprehensive healing for both mind and body.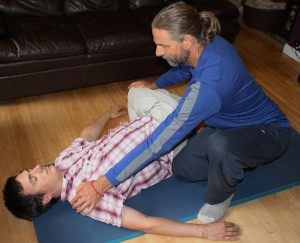 Benefits of Thai Massage
The art of relaxation is a key to good health, vitality and peace of mind. Rediscover this through Thai massage.
Provides you with mental, physical and emotional tension release
Gentle re-aligment of the spine and joints
Pain relief and self-healing of the body
Enhanced creativity and sense of well-being
Learn more about Thai Massage
Benefits of Feldenkrais
The art of body alignment is another key to good health.
Improves your neuromuscular functioning
Helps improve your posture
Frees your body to move more easily
Teaches practices you can do at home
Learn more about Feldenkrais
Benefits of Yoga Therapy
The art of body-mind integration is yet another key to good health.
Personalized yoga practices for your needs
Guidance for you to go deeper into the healing benefits of yoga
Helps you integrate your yoga practice into your daily life
By Appointment in Slocan Valley & Nelson
Kamloops bookings available for: June 29-July 2
Book Now